Samuel and Tamara
Episode Information
Episode no.
3
Directed by
Keitaro Motonaga
Airdate
TBA
Languages
English
Duration
22 Minutes
Studio
AIC+
Episode Navigation
Previous
Samuel and the Super Being
Next
Here comes Yarona
Samuel and Tamara is the 3rd Episode of Date A Live.
to be added
Characters appearing in this Episode
Edit
Samuel "Sid" Issac
Kallie Issac
Tamara
Henry Thomas
Octavia Tally
Reene Marian
Censorship/Changes made from this Episode
Edit
The Japanese words from signs/blackboard are erased, as usual.
Some of the Japanese food are slipped out from editing.
The scene that Tohka and Shidou is welcomed to the town that Ratatoskr prepared is ultimately cut for unknown reasons.
Shidou's death is retooled (Blood removal, filling his injury hole).
The kiss is somehow edited.
Tohka's nude body is airbrushed.
Tamara refers herself as "Sir Tamara". No, seriously.
This Episode is one of the only three Episodes released in DVD.
Episode Releases
Edit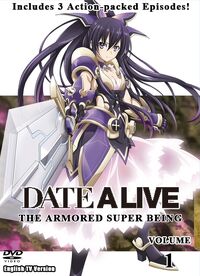 The 3rd Episode (along with the 2-parter Pilot Episodes) is released in the 1st Volume of the DVD.