Samuel and the Super Being (Part 1 & 2)
"You're not gonna beat me with that giant Nerf Sword, aren't ya?"
Episode Information
Episode no.
1,2
Directed by
Keitaro Motonaga
Airdate
2014
Languages
English
Duration
24 Mins (Each Episode)
Studio
AIC+
Episode Navigation
Previous
None
Next
Samuel and Tamara
Samuel and the Super Being is a 2-parter Episode (1 & 2) of Date A Live.
to be added
to be added
Characters appearing in this Episode
Edit
Samuel "Sid" Issac
Kallie Issac
Henry Thomas
Octavia Tally
Reene Marian
Censorships/Changes made from this Episode
Edit
The scene of the first Spacequake & Kotori giving Shidou a bad wake up is removed.
The evacuation sign is edited.
AST's Missiles is recolored.
to be added
First appearance of the Armored Super Being (later named Tamara)
Episode Releases
Edit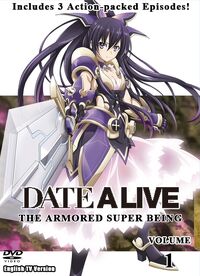 The two-parter series is released along with the 3rd Episode in the 1st Volume.